Overcoming your mental health and addiction battles alone can be difficult. This is where veteran support groups in Florida can help. By finding the right veteran addiction treatment program for you, you can get support from people who know first-hand what you're going through.
Below are some of the benefits of joining a trauma-informed group for veterans and the different types available. You can recover from the silent battles you've endured from your military service surrounded by those who understand.
What Are Veteran Support Groups?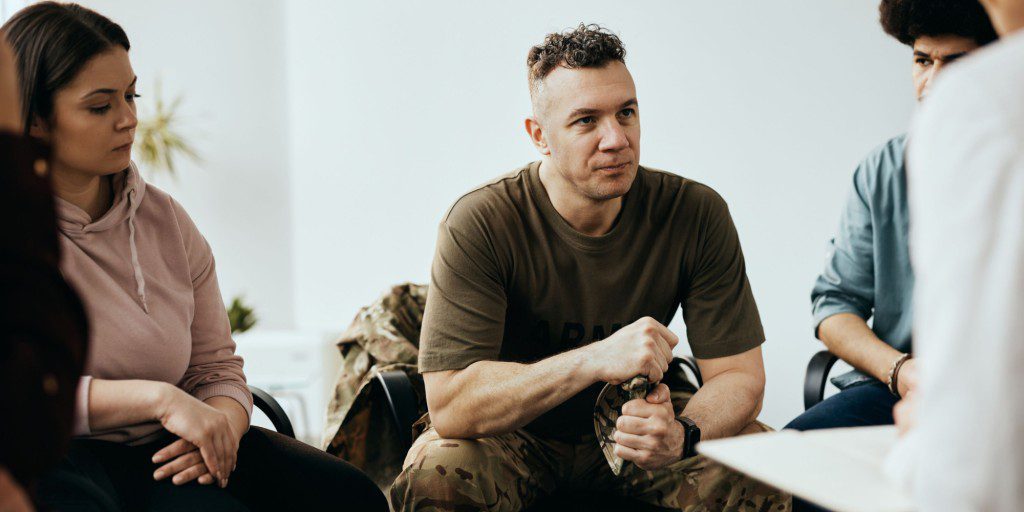 It's often stressed that children and teens need peer connection to maintain mental wellness, but it's just as important for adults. With this in mind, the veteran community is at a higher risk of struggling with mental health disorders and substance use disorders in comparison to civilians. This is because, upon returning home, it's common for veterans to feel disconnected from those around them, who often can't understand their experience.
After leaving the service, some veterans may feel like they are missing out on the camaraderie that was once a part of their daily life. Sometimes civilian family members mean well, but they're unable to offer the comfort that only other service members can provide. Veteran support groups provide the space former service members need to share their experiences. From the staff to peers, they are surrounded by those that understand.
---
for Veterans by Veterans
Are you or a loved one in need of help?
---
Veterans seeking mental health and addiction help are ready to heal their trauma from being in the military. But if you're unsure of where to go, you have options besides the United States Department of Veterans Affairs. You can find veteran support groups at places like Heroes' Mile through residential and outpatient treatment programs. Here, you'll get the professional help you need to overcome addiction and the symptoms of your mental illness in addition to finding peer support.
Benefits of Veteran Support Groups
While family support is crucial for veterans to recover, peer support can make those in treatment feel more comfortable while away from home. Peer support groups allow those working on their mental health to open up in a judgment-free space. Former military members can discuss daily challenges and exchange helpful advice on how to better manage their symptoms. Having others share before you during your first veteran support group meeting can relieve some of the stress of opening up to strangers.
In addition to therapy, members can work on processing difficult emotions such as shame, guilt, and fear that are frequently a part of recovery. Participating as an active member in a group can help you work through these feelings as you would in individual therapy, but now you have an entire support system around you.
Some of the benefits of veteran support groups include:
Knowing that you're not alone in your struggles
Learning how to talk about your feelings and experiences with others
Discovering new ways to handle day-to-day challenges
Meeting friends or mentors that can have a positive impact on your life
Hearing new perspectives to develop positive coping skills
Although vet center support groups can be essential for healing from mental health issues such as anxiety, depression, and post-traumatic stress disorder, they're most effective as part of a comprehensive treatment program. This way you can deal with PTSD in a formal medical environment in addition to a more relaxed setting as a comprehensive to your recovery journey.
Types of Veteran Support Groups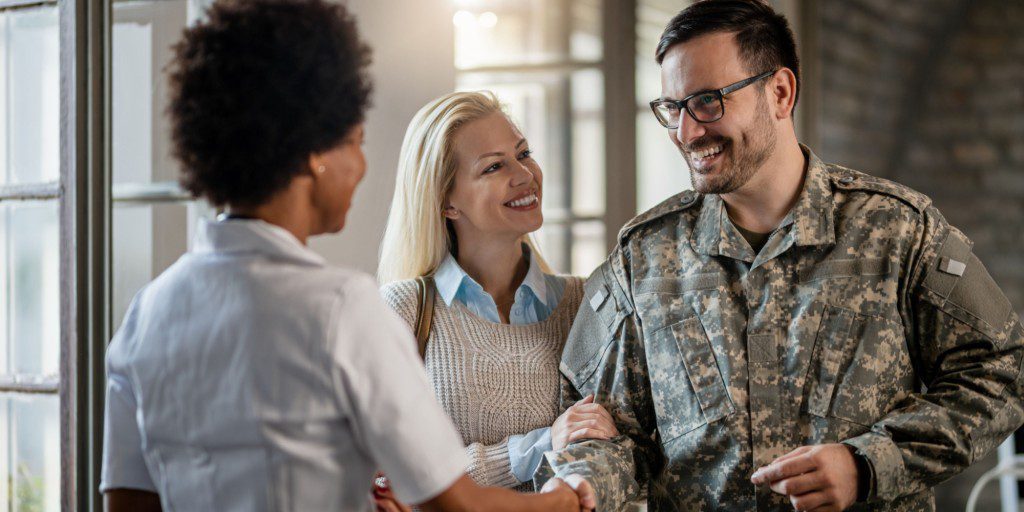 There's never a right or wrong time to seek out groups for veterans. One of the first hurdles is integrating into civilian life. Transitioning out of the service can be mentally challenging. Former service members are learning how to adapt to a new way of life at home and within their community. Many veterans, especially those who retired post-9/11, didn't get the adequate help they needed while transitioning from active duty to civilian life. As a result, service-related mental health challenges linger.
Additionally, many of those who were deployed struggle with the effects of combat exposure until they receive professional help. Veteran support groups tend to focus on mental health disorders like post-traumatic stress because it's so common among former military members.
PTSD and related mental illnesses often goes hand-in-hand with substance abuse. Those who struggle to ask for help or have limited resources often turn to drugs and alcohol to self-medicate. Peer groups available through drug and alcohol rehab treatment programs can make recovery feel less isolating. Peer groups also provide veteran crisis support. Facilitators and peers come up with suicide prevention strategies to help former military personnel who are in crisis.
No matter your struggles, you're never alone in the company of other veterans.
How to Get Support After Treatment
You don't have to stop seeking addiction help once you leave treatment. Those transitioning out of inpatient treatment may benefit from a partial hospitalization program. This way you continue to receive structured services while adapting to your life at home.
Heroes' Mile also hosts Alcoholics Anonymous and Narcotics Anonymous meetings so you can continue to get veteran-to-veteran support after treatment. Recovery doesn't end when you leave treatment, so your access to support shouldn't either.
Find Your Support Group at Heroes' Mile
There are different types of veteran support groups available at Heroes' Mile. You can find the one that's right for you while undergoing treatment for your addiction and mental health. Our treatment center was created by veterans for veterans so former military personnel would feel right at home in our care.
If you have any questions about how we can help you, call us at 888-838-6692 or submit a confidential contact form online. We'll be here to support you through every step of recovery.
---
for Veterans by Veterans
Are you or a loved one in need of help?
---