Individual Therapy For Veterans
At Heroes' Mile, our individual therapy for veterans helps patients recover from their addiction and other psychological challenges, including post-traumatic stress and military sexual trauma. Each level of care at Heroes' Mile provides one-on-one counseling for former active duty and combat veterans, which means that veterans can receive individual therapy in our drug and alcohol detox program, our residential rehab program, our partial hospitalization program, and our intensive outpatient program.
Individual therapy for veterans provides tailored treatment for every client. During one-on-one sessions, a service member and mental health professional work closely throughout the therapeutic process help veterans overcome addiction and past trauma to fully acclimate to civilian life. Clients are free to discuss thoughts, feelings, experiences and any concerns related to wartime events and memories. Individuals receive a higher level of privacy during individual therapy than in peer support groups or therapy centered around veterans and their families. For this reason, many veterans feel more comfortable using individual therapy as a space to discuss their history with substance abuse and mental health related to their military service.
Individual therapy for veterans is at the core of our addiction treatment and trauma recovery programming. At Heroes' Mile, our mental health treatments address the invisible wounds of war to help heal and rehabilitate veterans.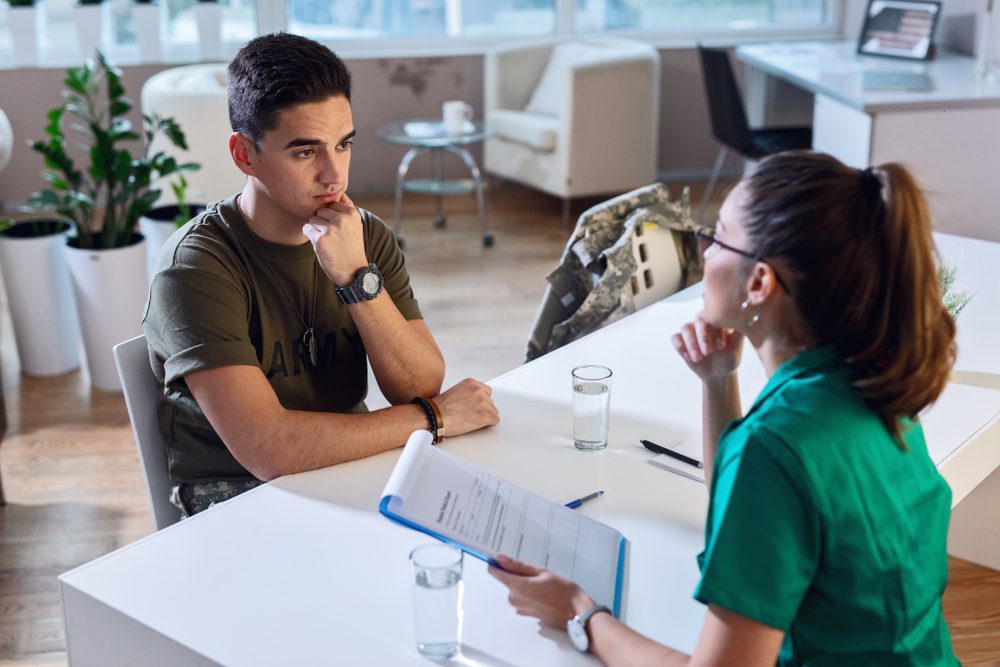 What Does Individual Therapy for Veterans Accomplish?
Veterans with post-traumatic stress disorder (PTSD), military sexual trauma (MST) and other psychological challenges often struggle to reconcile the horror of their combat or military experiences. This may then lead them to cope by abusing drugs or alcohol, which can cause substance use disorder. In this way, substance abuse and mental health issues create a vicious cycle for veterans. And the only way out is through trauma-informed addiction recovery treatment.
While individual therapy is tailored to each veteran's unique needs, we employ two mental health treatments to help veterans heal from their trauma. These mental health treatments are:
Cognitive Behavioral Therapy (CBT):
CBT helps veterans identify self-destructive behavioral patterns and replace them with constructive, healthy choices. For example, many former combat veterans struggle with traumatic memories. Where they may have turned to substance abuse in the past, CBT guides them to try healthier activities that will benefit both veterans and their families.
Cognitive Processing Therapy (CPT):
In CPT, veterans work through the traumatic experiences that led them to drugs and alcohol. We specially designed our CPT to address post-traumatic stress, military sexual trauma, and other traumatic issues that cause service members to drink or use drugs. By working through these issues, we empower our veterans to make healthy choices for themselves and reintegrate into civilian life.
When considering individual therapy for veterans, it's important to remember that veterans have unique mental health care needs. Their relationships with trauma and addiction are not found in other groups, and their therapy needs to be tailored to those experiences. Only by addressing these wounds of war can veterans truly move on and lead healthy, fulfilling lives. And that's what we work toward at Heroes' Mile.
Which Veterans Need Individual Therapy?
It's true that not every veteran needs to undergo the kind of intensive therapy that we offer. But for veterans who served in Iraq and Afghanistan, 11-20% finish their service with some form of post-traumatic stress. And for those veterans, life can be impossibly difficult without proper addiction and mental health resources.
While each veteran's case is unique to them, certain factors exist that may predispose a service member to needing specialized mental health care. Some of these factors include:
Serving as a combat veteran
A familial history of addiction
Surviving military sexual assault
In the end, each veteran must decide what treatment they need. But for veterans who see themselves described in the list above or who find themselves using drugs or alcohol to cope with trauma, treatment may prove essential.
Choose Heroes' Mile to Provide Individual Therapy for Veterans
We launched Heroes' Mile in 2019 with a single mission—to provide addiction recovery through common ground. Our recovery center is dedicated to helping veterans through services delivered by veterans. If you are seeking individual therapy to heal invisible wounds of war, we can provide a structured level of support in a safe, caring and confidential environment as you transition into a more independent lifestyle.
At Heroes' Mile, our individual therapy for veterans helps them regain control over their lives and feel empowered. Our counselors are dedicated to helping veterans identify their goals, develop coping mechanisms, and rejoin civial life.
Interested in one-on-one therapy sessions to overcome past trauma and addiction? Contact Heroes' Mile at 1-888-VET-NOW2 or fill out our confidential form to get started. However you are ready to reach out, we are ready to help. We've got your six!