If you are one of the many veterans who struggles with both chronic pain and addiction, you might have a lot of questions about how you can both manage your pain and continue on your path toward recovery. This is where chronic pain and addiction rehab can be extremely beneficial. We have the answers to all of your questions on pain, drug abuse, and where you can get treatment today.
Why Do Veterans Have Chronic Pain?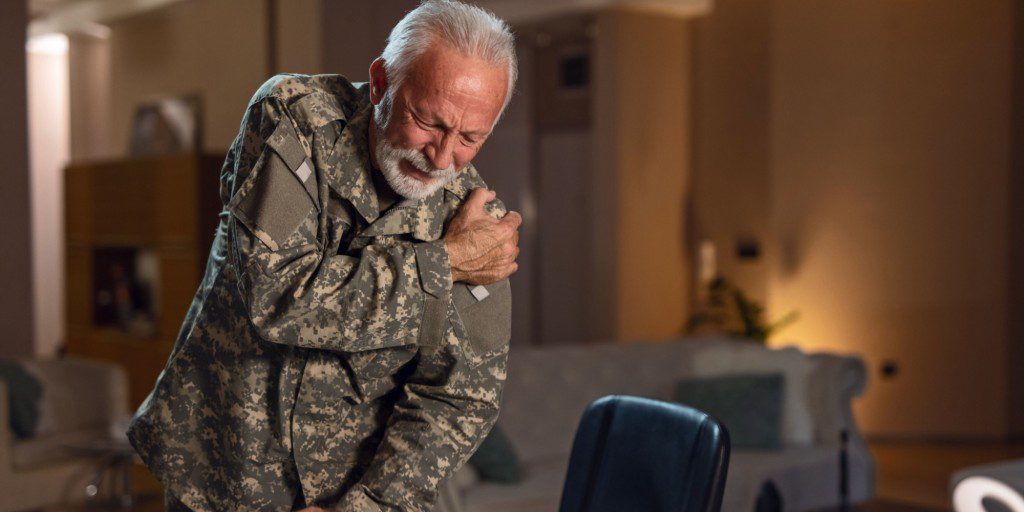 Chronic pain is a major concern for many people throughout the country and beyond. Research indicates that as many as 40 percent of adults in the United States struggle with chronic pain. In fact, it's one of the number one reasons why people end up needing to see a health care provider. Chronic pain can make it extremely challenging for people to do things like work, socialize, and function on a daily basis.
And while there's a chance that anybody could experience chronic pain, there are certain risk factors that can increase the likelihood of this. These risk factors include things like age, medical history, and occupation. This means that some people are more likely to experience chronic pain throughout their lifetime than others.
Veterans are one of these groups of people. While serving, veterans have to push themselves physically, mentally, and emotionally. As a result, veterans are more likely than people in the general population to experience severe pain. This includes back, joint, neck, jaw, and head pain. Studies also show that one in 10 veterans live with a service-related injury, which is sometimes the cause of the chronic pain.
---
for Veterans by Veterans
Are you or a loved one in need of help?
---
Typically, chronic pain is discomfort in at least one area of the body that lasts for an extended amount of time with little to no pain relief. Sadly, in many cases, chronic pain is not something that can be cured. Instead, chronic pain patients need a treatment plan to manage the symptoms. But not having the right pain management can sometimes lead to chronic pain and addiction co-occurring, as in cases of prescription drug addiction.
How Are Chronic Pain and Addiction Connected?
Chronic pain patients understand that finding the right type of pain management takes some trial and error. In the United States, it's common for doctors to prescribe opioid painkillers as a chronic pain treatment. These prescription drugs are meant to only be used temporarily—just long enough to provide some relief in order to find other long-term chronic pain treatments.
However, the risk with taking pain medications is that these are highly addictive substances. A surprising number of people end up taking their prescribed painkillers outside of the intended use. In many instances, this type of addiction begins with patients simply trying to find pain relief. But the body and mind can quickly become dependent on these pain medications, thus firmly connecting chronic pain and addiction.
This is especially true for people who are already susceptible to both chronic pain and substance use challenges. Veterans, unfortunately, are at a great risk for these conditions. Not only do veterans face the physical difficulties of serving, which leave them with aches and pains, but there are also a number of ways that veterans struggle upon returning to civilian life.
Veterans might have trouble building healthy relationships, finding jobs, and seeking out mental health resources when they have completed their time serving. Common examples of mental health concerns in veterans who have chronic pain include anxiety and depression.
Interestingly, research shows that many veterans who live with chronic pain often also live with post-traumatic stress disorder (PTSD). The connection here has to do with the fact that veterans who have been injured or faced combat exposure often had more traumatic experiences on their minds and bodies. This can lead to both PTSD and chronic pain later down the line.
The mental health aspect in combination with the physical pain is what frequently leads to veterans misusing prescription opioids. Though their team of providers might feel that pain medications will help them get back on their feet physically, the reality is that veterans are at a great risk for developing a substance use disorder—especially when chronic pain is involved. In these instances, getting treatment with chronic pain and addiction rehab is the only sure way to recover both physically and emotionally.
What Is the Treatment Plan for Veterans with Addiction and Chronic Pain?
The treatment plan for veterans with addiction and chronic pain should address all conditions. For a lot of veterans who need chronic pain and addiction rehab, this begins with medical detox. Medical detox is a unique feature of drug rehab in that it helps patients to rid their body of harmful and addictive substances while also ensuring that they are as safe and comfortable as possible. This is particularly important for veterans who are going through opioid withdrawal symptoms, which can cause a lot of distress as well as a chronic pain flare.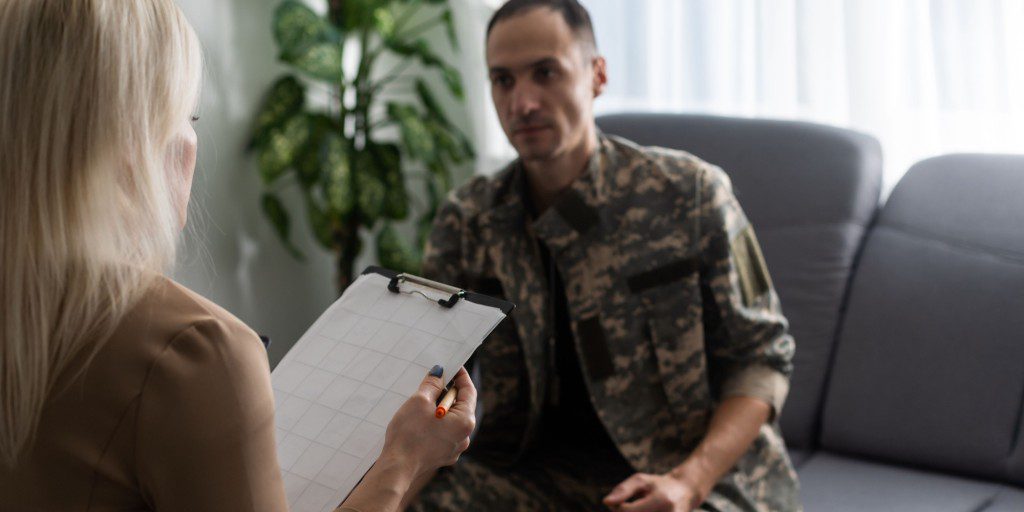 Additionally, veterans shouldn't have to choose between living with pain or living with an addiction. So, treatment programs should also have pain management options for veterans who need something for pain relief after detoxing and into their recovery journey.
This is where having a physical fitness treatment plan comes into play. Doing the right types of movements can help veterans to address pain areas and find strength throughout the rest of their body. With this and nutrition education services, veterans in chronic pain and addiction rehab will feel better than ever before.
Of course, veterans should also work on their full mental health recovery as well. Having access to services that help veterans with PTSD, substance abuse, and more will lead them toward a long-term partnership with wellness. These services at a chronic pain and addiction rehab might include:
Where Can Veterans Get Addiction Treatment in Florida?
Veterans who are in need of chronic pain and addiction rehab need a specialized treatment plan to address all aspects of recovery. When choosing a drug rehab center, be sure to choose one that will help veterans to begin the process of recovery but also learn the tools they need to maintain good physical and emotional health. This means finding treatment programs that are made by veterans with other vets in mind.
If this is the type of treatment you agree would be most beneficial, Heroes' Mile is here for you. We are here to make your recovery toward physical and emotional wellness something that is smooth, painless, and long-lasting. Give us a call to share your experiences with chronic pain and addiction at 888-838-6692 or submit a confidential contact form through our website. Know that pain management and sobriety are both possible with the right treatment.
---
for Veterans by Veterans
Are you or a loved one in need of help?
---