When you have insurance through the United States Department of Veterans Affairs, alcohol treatment is included in your medical benefits. But not all treatment facilities accept VA insurance, as not all addiction treatment programs receive VA approval. But Heroes' Mile is proud be a Community Care Partner with the VA to offer the best alcohol treatment options at a veterans-only facility. Unlike other treatment centers, Heroes' Mile was developed exclusively for veterans, has extensive veterans-focused treatment options, and gives veterans seeking treatment the best possible chance of recovery.
Alcohol Treatment for Veterans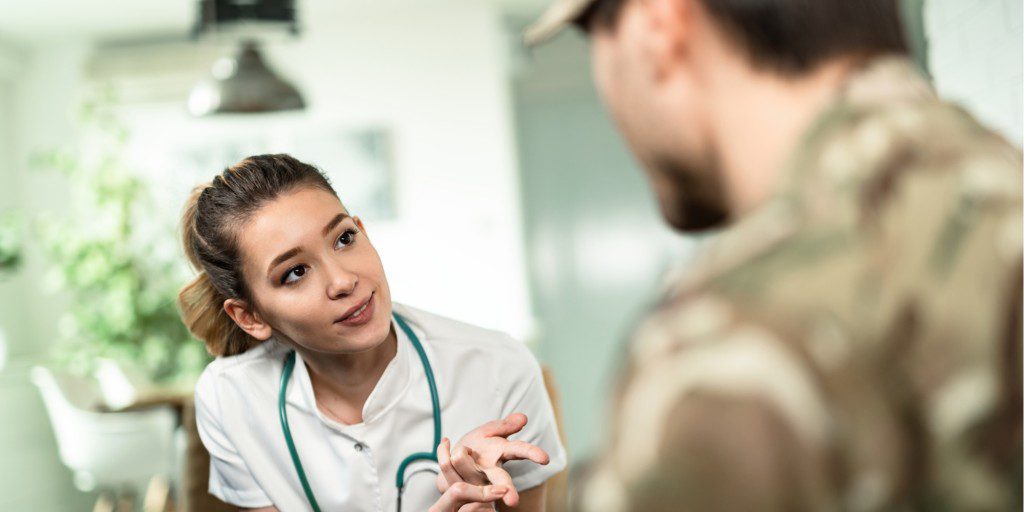 Veterans are at high risk for developing a substance use disorder. In fact, research indicates that roughly 11% of veterans who seek treatment at the VA experience addiction, and the vast majority struggle with alcohol specifically.
Left untreated, an alcohol use disorder can have serious consequences. Not only does alcohol have a severe impact on your physical health, but it can cause emotional and social problems as well. Left untreated, your job, relationships, and personal wellbeing are all at risk when struggling with an alcohol use disorder.
Fortunately, treatment is a simple and effective option through the United States Department of Veterans Affairs. Alcohol treatment is available at approved treatment facilities and can help put you back on the right track. These programs typically focus on a few key evidence-based practices, including:
---
for Veterans by Veterans
Are you or a loved one in need of help?
---
12-step programming
Peer-to-peer support
Individual therapy
Co-occurring disorder treatment (e.g. depression and PTSD)
Together, these treatments can help you to overcome the physical effects of alcohol withdrawal, learn healthy coping mechanisms for the future, and build a long-lasting support structure to maintain your sobriety.
While the process is simple, it is by no means easy. Fortunately, you don't need to go through this process alone. At Heroes' Mile, you'll be introduced to other veterans seeking recovery, therapists who truly understand the unique needs of veterans, and a team of addiction treatment professionals who can help you through this difficult time.
What's Covered by the United States Department of Veterans Affairs?
VA insurance covers much more than just medical care. You are entitled to mental health treatment, including substance abuse treatment, as part of your benefits. Moreover, you deserve to take full advantage of the benefits afforded to you by the VA. You've dedicated a portion of your life to serving your country–these benefits exist so that your country can serve you, now.
Alcohol addiction treatments covered by the VA include:
At Heroes' Mile, we built our treatment center from the ground up with veterans in mind. This includes ensuring that our treatment is accessible to all veterans through VA insurance and offers a comprehensive suite of mental health services. We've partnered directly with the VA as Community Care Partners, which allows us to work with your other healthcare providers to ensure you get the best results.
Veteran-Specific Treatments for Alcohol Addiction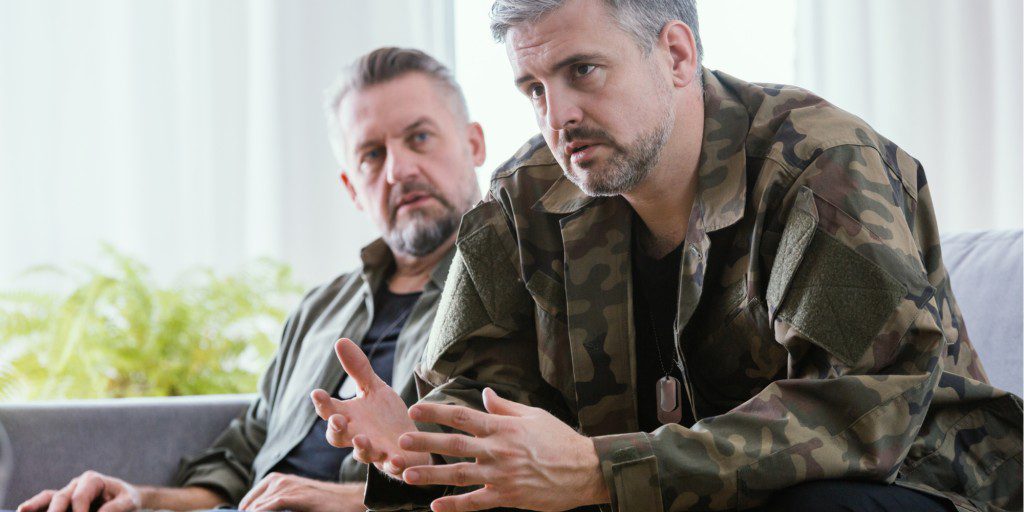 The top priority at Heroes' Mile is ensuring that veterans seeking treatment have a safe and effective place to recover. Too often, veterans will look for treatment options at conventional treatment centers, only to feel singled out because of their veteran status. Their peers can't relate to their struggles, their therapists can't truly understand a military experience, and veterans' specific issues are glossed over. While these treatment facilities may provide quality healthcare services, they simply miss the mark in understanding a veteran's needs.
Heroes' Mile fixes this problem by implementing a peer support program exclusively for veterans. In addition, our staff and clinicians are mostly veterans as well and are in a better position to help. Further, we incorporate specialized treatment for veterans with PTSD, military sexual trauma, or trouble adjusting to civilian life.
Some of these programs include:
Eye movement desensitization and reprocessing therapy (EMDR): an evidence-based therapy to treat posttraumatic stress disorder (PTSD)
Individual therapy with therapists who truly understand veteran's issues
Job skills and training programs to help veterans reintegrate into civilian life after treatment
Group therapy with other veterans who are both seeking recovery from addiction
These treatments work in conjunction with our world-class addiction treatment program, to ensure that you have the best possible chance of recovery.
Start Your Recovery at Heroes' Mile
Helping veterans to recover is what Heroes' Mile was built for. From the moment you call to the day you discharge and beyond, our team will be there to support you in your journey to recovery. And importantly, no veteran should have to worry about paying for treatment. With insurance through the United States Department of Veterans Affairs, alcohol treatment is paid for so that you can focus on your recovery.
When you're ready to start the journey towards abstinence, call our admissions team at 888-838-6692 or fill out our confidential online contact form. Our team can verify your insurance benefits, help you pick the treatment program that best suits your needs, and guide you through the admissions process. You don't have to continue struggling alone–effective addiction treatment for veterans, by veterans, is available at Heroes' Mile.
---
for Veterans by Veterans
Are you or a loved one in need of help?
---