Choosing the right treatment center is essential for veterans. You want to ensure that you get the help you need at an addiction treatment center that provides peer support from other veterans, evidence-based care, support for the future, and ongoing support after initial inpatient rehabilitation. That's why we believe that a veteran rehab center is the right choice for military personnel living with addiction. By enrolling in addiction treatment that is centered around and administered by veterans, you can make real, lasting change in your life.
The Treatment Gap for Veterans with Addiction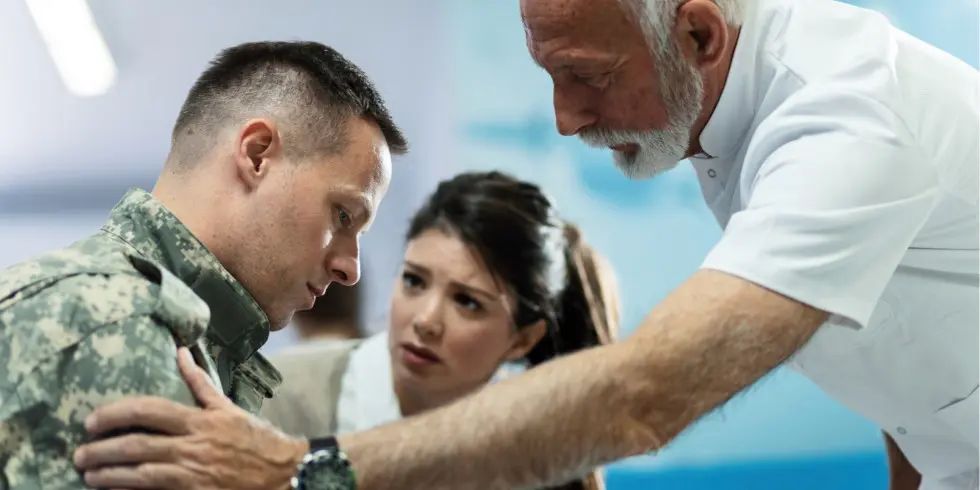 For many veterans, the choice isn't whether to attend a veteran rehab center versus a conventional addiction treatment center. Instead, it's whether to get addiction treatment at all.
In any given year, 1.3 million veterans experience a substance use disorder. And sadly, 85.1% of veterans won't receive any type of treatment for their addiction, usually because of concerns about their careers or social stigma of substance abuse. But for veterans, untreated addiction is particularly dangerous, and thus veteran rehab centers are of the utmost importance.
Even in civilians, untreated addiction can result in substantial harm. Substance abuse affects both the body and the mind and can have serious long-term consequences. These effects could include:
---
for Veterans by Veterans
Are you or a loved one in need of help?
---
Brain changes that make it harder to quit on your own
Social withdrawal and isolation
Worsening mental health symptoms
Legal consequences
Strained or broken personal relationships
Intense drug or alcohol cravings that don't go away
But for veterans, the side effects can be even worse. According to the Department of Veterans Affairs, between 11 and 20% of veterans live with post-traumatic stress disorder (PTSD), and many others live with depression. In fact, these mental health issues often lead veterans to turn to drugs or alcohol. And without treatment, these mental health issues can worsen alongside addiction, making both issues worse. This is another key benefit of attending a veteran rehab center: specialized care that takes into account the underlying cause of addiction in veterans.
Fortunately, addiction is a highly treatable disease. But its important to make sure that you're getting the kind of care that is right for you. For example, in conventional treatment programs, many veterans are left feeling further isolated and withdrawn.
The Shortcomings of Civilian Treatment
Treatment programs that cater to civilians are an excellent option for most people looking to overcome a substance use disorder. They typically include high-quality treatment methods, such as medical detox and intensive therapies. Yet more often than not, they are not capable of successfully treating veterans' issues.
Veterans with PTSD, a history of military sexual trauma, or trouble reintegrating into civilian life are left feeling alone in groups. They are surrounded by peers who share a common problem of addiction, but nobody can relate to their military service or the resulting wounds of war. This deprives veterans of a valuable tool for helping them achieve recovery, and they often have to keep their true feelings to themselves.
Even in individual therapy, they can feel isolated from their therapist. A veteran may simply not feel comfortable enough to open up about their experiences in the military with a civilian that has no conception of what military service is truly like.
The Advantages of a Veteran Rehab Center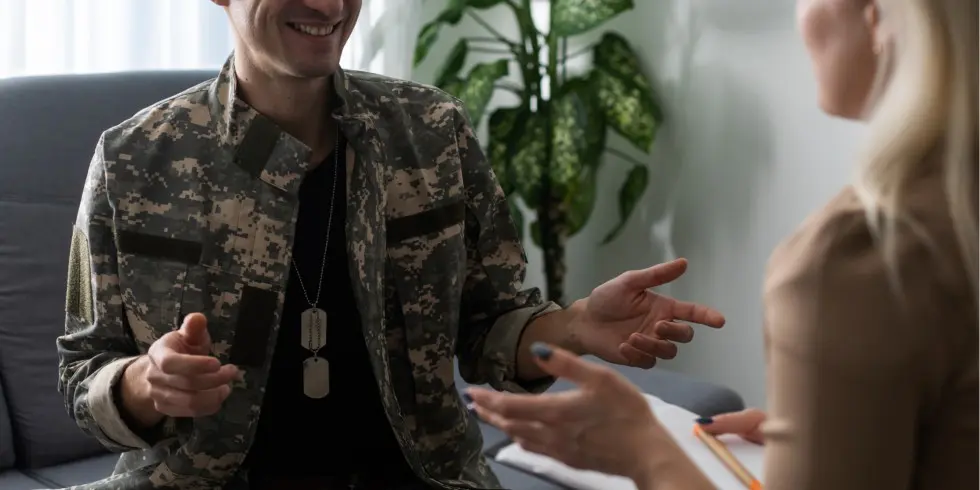 At Heroes' Mile's veteran rehab center, we solve these problems with a very simple strategy:
We only accept veteran clients
Our staff is made up primarily of veterans
We provide targeted therapies and treatments designed specifically for veterans
We offer the best evidence-based treatments for overcoming addiction
These are the pillars of a veteran rehab center. And with them in place, veterans can achieve recovery through common ground with the people around them. This support allows veterans to be open and honest about their issues, which can drastically improve their treatment outcomes.
Being a veterans-only rehab center has several advantages. We believe that the strongest of these is treatment with a peer group made up of other veterans. Not only are you surrounded by other people in recovery trying to quit, but those individuals also have similar military experiences. This allows our residents to open up about their struggles without fear of judgment or misunderstanding.
This extends into individual therapies as well. Since our staff is primarily veterans, you can feel comfortable being honest about your military experience and how it shapes your life today. In this way, we can get to the root cause of your addiction and help you to work through it.
In addition, several veteran-focused therapy options are available. For example, veterans with PTSD can benefit from eye movement desensitization and reprocessing (EMDR) therapy. This cutting-edge treatment can help vets to process their trauma and treat the co-occurring mental illness that so often exists alongside addiction.
Addiction Treatment Services
Heroes' Mile offers the full continuum of care for addiction recovery services. In most cases, addiction recovery starts with our drug and alcohol detox program. Here, our medical team can give you 24/7 medical monitoring and support to make sure that your withdrawal symptoms are safely managed without the need for relapse. In this way, our veteran detox program provides the first level of care at our veteran rehab center.
From there, our residential treatment program provides intensive therapies during early recovery. Residential treatment allows you to focus entirely on your recovery without the distractions of daily life. Additionally, living with other veterans means you get constant support and understanding from people who are going through the same issues that you're facing.
After completing detoxification and residential rehabilitation, many veterans choose to enroll in outpatient support. At this level of care, you live off-site and attend treatment for several hours per week, depending on the program (partial hospitalization or intensive outpatient). By attending outpatient care, you can transition back to regular life without drugs and alcohol while still receiving peer-to-peer support from other veterans.
Throughout our veteran-specific services, we use the best evidence-based treatments to help people overcome substance use. This includes:
Cognitive behavioral therapy
12-step groups
Group therapy
Family therapy
Nutritional assessments and food plans
Extensive aftercare planning
We use these methods because they are backed by bodies of evidence to work for addiction in general as well as specifically among the veteran population. Quitting drugs and alcohol isn't easy, but it is possible with support from an accredited veteran rehab center. And the team at Heroes' Mile can help show you the way.
Start Your Recovery at Heroes' Mile Today
When you're ready to start treating your addiction at a veteran rehab center, contact our team by calling 888-838-6692 or filling out our confidential online form. We believe that as veterans, we are best equipped to help veterans recover. You don't have to fight your battle alone—together, we can walk the path to recovery and heal from addiction.
---
for Veterans by Veterans
Are you or a loved one in need of help?
---