Making the decision to seek help for substance use and mental health recovery can be incredibly overwhelming. Patients often feel as though they have to decide between putting their lives on hold or putting their recovery on the back burner. This is why, for some veterans, outpatient treatment can be the right step toward a healthier, happier way of living. But is veteran outpatient treatment right for you? Here, you'll learn more about this type of treatment, how it can help, and where veterans can go for the best intensive outpatient programs.
Why Do Veterans Need Substance Use Treatment?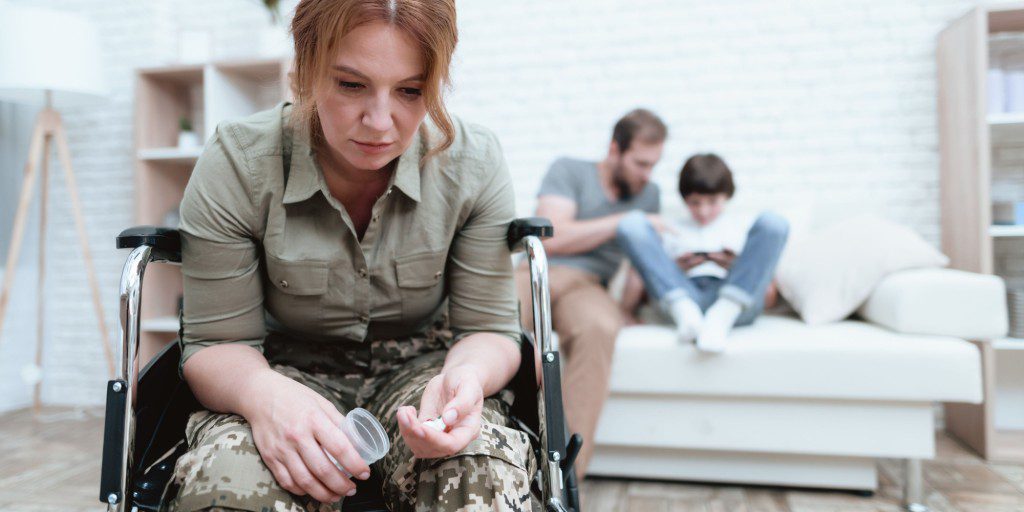 While it's true that anybody can struggle with an addiction to drugs or alcohol, research shows that veterans are at a higher risk for developing a substance use disorder than the general population. But this doesn't just happen out of nowhere.
Being a service member comes with certain responsibilities and also specific dangers. Military personnel often encounter situations such as:
Combat exposure
Military sexual trauma (MST)
Service injuries
These events don't just leave veterans once they've returned home. Unfortunately, as many as 30 percent of veterans have symptoms of post-traumatic stress disorder (PTSD). Furthermore, one in 10 veterans end up with chronic pain throughout their lifetime. The combination of mental health struggles, chronic pain, and a lack of resources for treatment just add to the risk that veterans will develop a substance use disorder.
---
for Veterans by Veterans
Are you or a loved one in need of help?
---
The truth of the matter is that veterans often face challenges while serving that many others can't imagine, but when they return to civilian life, they don't have the necessary resources to cope with what they've experienced. In turn, this could lead to drinking or using drugs as a way to get through the pain. However, this is not a viable solution. These addictive substances can result in serious health consequences, mental health strain, or even death for veterans. This is why veterans must seek out veteran outpatient treatment for their symptoms.
Residential Versus Intensive Outpatient Programs: Which Is Better?
Substance use treatment for veterans frequently involves a residential program in which patients stay at a safe, sober facility to have the time and space to heal fully. But all too often, veterans know that they need a treatment plan for drug and alcohol use but they have other life responsibilities that they are unable to give up (jobs, family responsibilities, etc.). This is where veteran outpatient treatment can help.
The main difference between residential treatment and an intensive outpatient program (IOP) is the amount of time veterans can spend at rehab center. Rather than staying at the facility for an extended amount of time, veteran outpatient treatment allows patients to dedicate a couple of hours of each day in the center while still having time to fulfill outside responsibilities. There is a bit more flexibility with an intensive outpatient program.
It's important to note that this type of treatment works best for certain patients and isn't always for everyone. This includes veterans who have already safely and successfully completed a detoxification program from drugs and alcohol. Moreover, veterans who need mental health care for co-occurring conditions, such as PTSD, usually need more intensive treatment than IOP can provide. This is because any mental health conditions should be treated at the same time as the addiction for a total approach to recovery.
Military personnel who benefit most from veteran outpatient treatment also have access to a supportive and sober environment outside of treatment. What this entails is having friends and family members who understand the work it takes to recover and who are able to offer support, keep drugs and alcohol out of the house, and go to therapy sessions with their loved one as needed.
Additionally, the work toward recovery doesn't end when patients leave the center for the day. Veterans will always encounter life stressors that can trigger the urge to use drugs or alcohol again. But with the skills that veterans learn in outpatient treatment, they can take on these challenging moments one step at a time. That's what recovery—whether through residential, partial hospitalization, or intensive outpatient treatment—is truly about: utilizing the tools necessary to get well and stay well.
What Does Veteran Outpatient Treatment Look Like?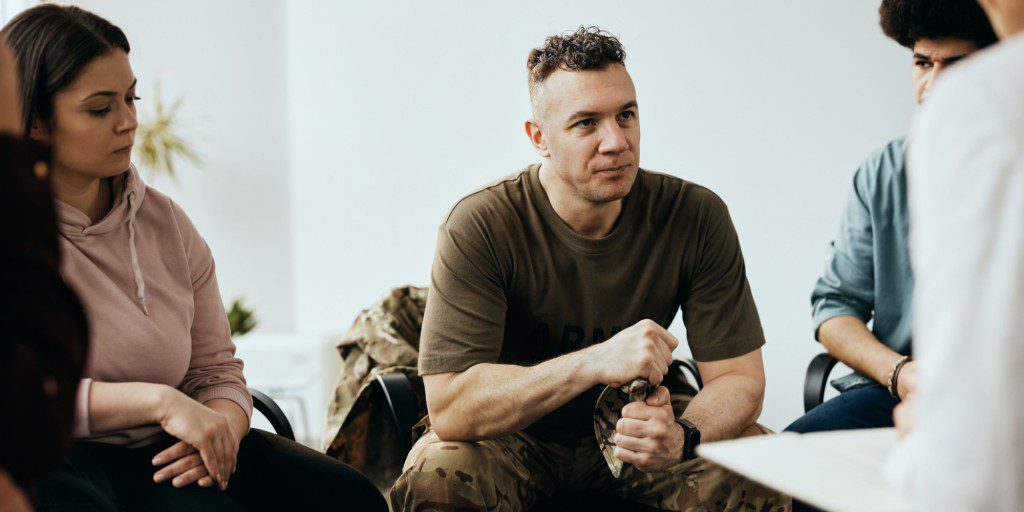 In veteran outpatient treatment, patients are able to work on a variety of veteran-related concerns through group therapy sessions. This collaborative environment lets veterans speak on their individual experiences as well as getting support from others who understand the trials of serving.
In addition to approaching challenging topics like MST and PTSD in group therapy, veteran outpatient treatment offers the opportunity for:
Relapse prevention planning
Developing coping skills
Aftercare planning and transition
Veterans are able to access all of these services while still having the chance to work, spend time with family members, and work on the transition back to civilian life. All of these can help veterans feel more confident to tackle substance use in and out of treatment.
The most important aspect of an IOP in this scenario is that it is veteran-focused. This means finding a facility that is made by veterans for veterans in need of recovery. As shared above, veterans go through unique experiences and traumas that need to be acknowledged. The treatment options for veterans should always take these into account in order to provide the most helpful care available.
Where To Get Veteran Outpatient Treatment
At Heroes' Mile, we create every treatment path with each individual vet in mind. No matter the level of care that you need, the staff at Heroes' Mile has you covered. We have veteran outpatient treatment for those who are hoping to get additional support as they continue their recovery journey. We also offer residential and partial hospitalization treatment options for veterans who need a little more time on site to get back on their feet. These treatment paths offer the chance for veterans to recover emotionally, mentally, and physically.
For more information on the best treatment path for you, please call 888-838-6692. Alternatively, you can complete a free and confidential contact form with all of your inquiries. We're here to work with you to find the best treatment options possible.
---
for Veterans by Veterans
Are you or a loved one in need of help?
---