Are you looking for the best eating disorder treatment centers for veterans but don't know where to start? Eating disorders are mental health disorders that can cause you to obsess over food and your body image. And due to the unique experiences as a veteran, you may require specialized treatment programs to address potential trauma fueling your symptoms. The effects can even be life-threatening if you don't get help from a professional eating disorder center. As a result, you should consider seeking help from a veteran-exclusive treatment center such as Heroes' Mile. 
When Is It Time to Seek Out Eating Disorder Treatment Centers?
As with other mental health conditions, eating disorders don't get better on their own. For that reason, veterans who meet the diagnostic criteria for an eating disorder should seek professional help. If you're unsure if you meet the criteria for an eating disorder, you can check in with your primary care provider. They will guide you to the next step, which may include directing you to one of the best eating disorder treatment centers for veterans.
Signs that you are struggling with an eating disorder include:
Dramatic weight changes

Eating alone out of shame or guilt for eating

Feeling disgusted or becoming fearful after overeating

Changes in exercise habits

Obsession with your body image

Calorie counting and restricting

Preoccupation with nutritional content

Using laxatives, diuretics, or diet pills to 

purge
Whether you're struggling with anorexia, bulimia, binge eating, or another form of disordered eating, the right recovery services are available. 
---
for Veterans by Veterans
Are you or a loved one in need of help?
---
How to Find the Best Eating Disorder Treatment Centers for Veterans
Finding the best eating disorder treatment centers for veterans in your area can take some time to research. However, looking for recovery centers that are veteran-exclusive can provide the care you need to help you heal from your unique experiences as a service member. Not all eating disorder treatment programs are alike, but the veteran-exclusive programs at Heroes' Mile are designed to help veterans heal from combat exposure, military sexual trauma, or PTSD that may be an underlying cause. Getting to the root of your disorder will help you start recovery on the right foot.
Treatment Options at the Best Eating Disorder Treatment Centers
Committing to a professional eating disorder treatment plan can be overwhelming at first. But with support, you can overcome your fears and begin your recovery journey. The best eating disorder treatment centers provide an assessment upon your arrival to ensure your treatment plan is created according to the necessary level of care. As a result, your plan will consist of the most effective treatment methods for your symptoms and recovery goals.
Our treatment center offers comprehensive eating disorder treatment for anorexia nervosa, bulimia, and binge eating disorder. The treatment options are available through several program types. One such program is the residential program. Here, patients remain on-site for the duration of their treatment.
On the other hand, patients who complete the residential treatment program and need continual support or benefit more from a less intensive program to start with can be enrolled in the partial hospitalization program or the intensive outpatient program. Both programs are non-residential and patients take part in a majority of the treatment modalities that residential treatment offers. However, partial hospitalization programs are a step up from intensive outpatient, which means you spend more time at the treatment center each week to work on your recovery. 
Psychotherapy
Psychotherapy, or talk therapy, is the main eating disorder recovery method for most patients. One of the most effective forms of psychotherapy for eating disorder recovery is cognitive behavioral therapy (CBT). Cognitive behavioral therapy focuses on the relationship between an individual's thoughts, feelings, and behavioral patterns. Moreover, it helps to either disrupt the factors fueling the binge-purge cycle or gradually expose patients to "forbidden" foods to help establish healthy eating habits.
Another healing form of psychotherapy is group therapy. This form of therapy consists of patients who share similar experiences coming together with the guidance of mental health professionals. Patients follow a structured format to discuss the challenges of their eating disorder and their recovery journey. Additionally, some forms of group therapy include activities that help veterans externalize their feelings and work on their communication skills.
One such activity includes equine therapy. This therapeutic activity allows veterans to care for and bond with horses in addition to improving their physical strength. With the guidance of mental health professionals, patients can be calmed by the rocking motion of therapeutic riding and learn to become more aware of their behavior patterns as the horses mirror their emotions.
These are some of the most common forms of psychotherapy for treating eating disorders. However, patients can explore additional evidence-based techniques according to their needs and recovery goals.
Veteran-Exclusive Support Groups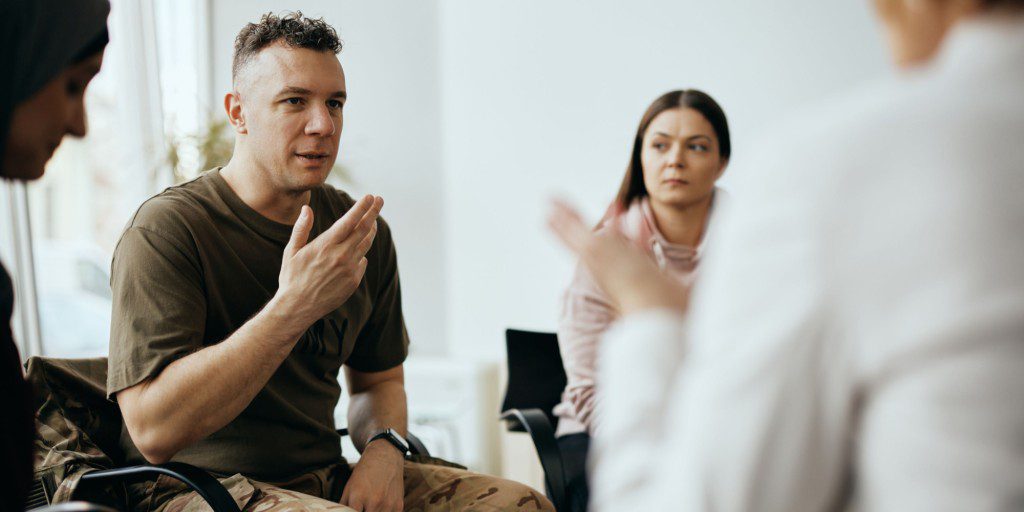 Veteran support groups function similarly to group therapy but follow a more relaxed structure. Nonetheless, patients can attend support groups in conjunction with individual or group therapy for added benefits. The biggest benefit of veteran-exclusive support groups is familiarity. Many veterans find it difficult to open up about service-related experiences to family members and mental health professionals that don't share a similar background.
As a result, veteran-exclusive support groups create a safe and judgment-free space for patients to connect with peers and staff members who are also veterans. The best eating disorder treatment centers for veterans provide an environment for struggling veterans to engage with others in a relaxed environment as they take the next steps toward recovery.
Nutrition Education
Healing your relationship with food and your body is an essential component of eating disorder recovery. Maintaining your physical and mental well-being depends on a nutritious diet. With that said, nutrition education teaches patients all about healthy eating. Additionally, you will learn more about your eating disorder triggers and how to cope when you're confronted with these foods and situations.
Nutrition education can also aid in addiction recovery. Almost 50 percent of adults with an eating disorder also struggle with drug and alcohol abuse. As a result, they need comprehensive care that addresses these co-occurring disorders. In this case, nutrition education can provide valuable insight into how new food practices can help heal your mind and body. Not only do these practices help you work through your trauma, but they can improve your long-term health when you continue to utilize what you learn outside of treatment.
Best Eating Disorder Treatment Centers for Veterans in Florida
The best eating disorder treatment centers offer specialized treatment plans to help veterans overcome the unique challenges they face. At Heroes' Mile, you're surrounded by fellow veterans so you can feel at home while you heal.
To learn more about our treatment programs, reach out to your admissions specialists at 888-838-6692. Or you can submit a confidential contact form with your questions. Every member of our team is happy to help you get started on your recovery journey. Heroes' Mile can provide you with the support you need to regain control of your eating disorder.
---
for Veterans by Veterans
Are you or a loved one in need of help?
---